Wearing a PFD or lifejacket is the law. It's also, however, just good common sense whenever you're cruising on a PWC.
All sorts of cool apparel and accessories line the walls of dealer showrooms or beckon from marine supply catalogs, but only one item is a true "must-have" every time you use your personal watercraft—a lifejacket, or personal flotation device (PFD). A PFD will keep you afloat apart from your craft, whether you're just swimming back after an unintentional spill or, worse, stranded following a more serious problem.

What should you look for when buying that PFD—besides the typical color, style, and maybe cool brand logo? Here are five key things to consider before buying a piece of apparel that just may serve the most important job of all.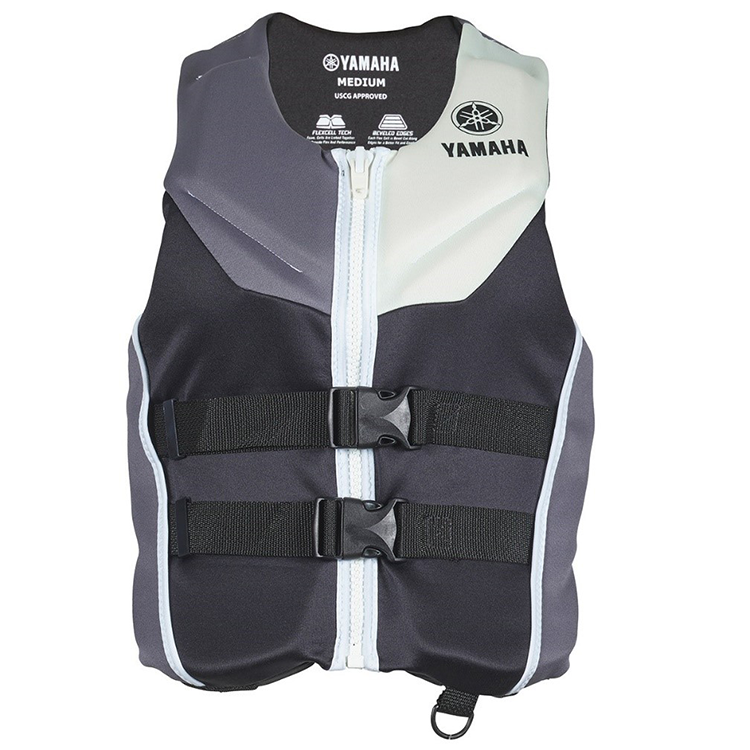 TYPE CASTING
It probably goes without saying that no self-respecting PWC rider cares to be seen in an old-school, bright orange lifejacket. But what's the alternative? The Coast Guard breaks them down into types, designed to match the task at hand. In the case of personal watercraft, that's Type III—the vest style that goes on easily, fits comfortably, and doesn't restrict your movements with excess bulk. Type III PFDs provide a minimum buoyancy of 15.5 pounds, or enough to keep a conscious adult's head and chin above the water. They're not intended to float an unconscious rider face-up, however, which is a good reminder to ride with friends whenever possible.
CLOSING THE DEAL
Most Type III PFDs fall into the front-entry, three-to-four buckle closure style, but there are variations on the theme, and often they're ideal for personal watercraft riders. One type favored by racers for its uninterrupted chest protection is the pullover vest. Pullovers typically buckle on the side and feature much thicker flotation in the chest area; this can come in handy should you hit a wave and take an unintended jolt from the handlebars. A popular style in cooler weather is the "float coat." A water-repellant jacket, the float coat incorporates the necessary flotation foam within to qualify as a Type III PFD, but offers the added warmth—and style—of a jacket.
MATERIAL GIRL
Type III PFDs typically feature molded polyvinyl-chloride foam, or PVC, in panels arranged to both float the rider and allow normal movement. Most vests are covered in nylon, a durable material that allows manufacturers to produce vests in a wide variety of colors and styles. Nylon also won't soak up water, it dries quickly, and perhaps most important, it protects the more vulnerable foam core from damage. Wetsuit-style neoprene is the other covering of choice. Neoprene vests tend to be more form-fitting, and are often more comfortable than nylon against the skin, but that wetsuit rubber is a double-edged sword. In cool conditions it's great, adding an additional layer of warmth against your torso. But in hot temperatures it can get a little toasty. Neoprene vests are also more expensive than their nylon counterparts.
EXTRA, EXTRA
As to additional features that make a Type III PFD more personal watercraft specific, look for a beefy plastic D-ring sewn into the vest, typically along the bottom seam. The ring allows you to clip on a PWC's safety lanyard, securing it to the rider while also keeping it out of the way. Other desirable features can include OEM colors and graphics to match your craft or wetsuit, side-closure-style buckles offset so they don't chafe the inside of your bicep, and above 50 MPH impact-ratings to accommodate a PWC's higher speeds. Other beneficial features, while not PWC specific, can include mesh bottom panels to enhance water drainage, and the incorporation of bright colors to make you more visible out on the water.
CARE AND FEEDING
Considering your life literally may depend on it—along with the fact that you want your PFD to last as long as possible—proper care is essential. The most common mistake is just tossing your wet life vest in with other gear and leaving it till your next ride. To avoid mildew, odors, and premature wear, it's important to rinse your vest with fresh water after use and hang it, out of the sun, to fully dry. Why avoid direct sunlight? The sun is harsh, and can damage fabrics and stitching. UV rays are also the enemy of a PFD's bright colors, prematurely fading them and ruining your style.
Check out some WaterCraft LifeJackets here.