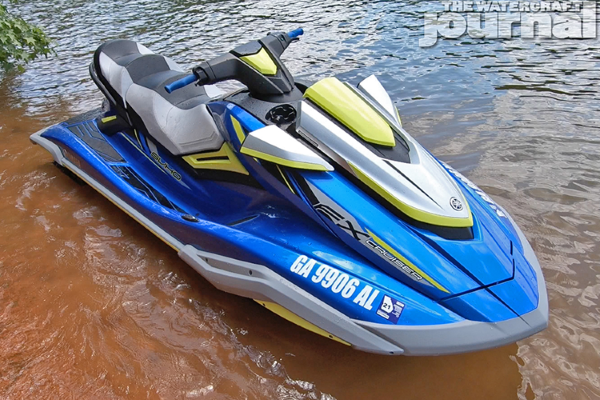 The Watercraft Journal's Kevin Shaw walks us through key features of the Yamaha FX Cruiser SVHO is powered by Yamaha's Super Vortex High Output Supercharged Yamaha Marine Engine for a high-performance ride along with top-of the line luxury features and styling.
[Excerpted from the Watercraft Journal, June 18th, 2020]
In the world of full-sized, 3-seater personal watercraft, the vast majority can do most things rather well. Be it tracking a straight, predictable line through chop; maintaining a certain level of balance while stationary or at low speeds; or offering enough operational features, accessories or other valuable gimmicks to give the buyer a fair sense of value. Again, most entries are competent, but there are very few who can show mastery in just one of these categories, and even less who can claim more. So that's why the 2020 Yamaha FX Cruiser SVHO WaveRunner is so impressive. It checks all of these boxes and then some.
Although sharing the same hull and deck molds as the naturally-aspirated FX Cruiser High Output (which admittedly targets at a slightly more mature audience), the supercharged FX Cruiser SVHO is cast out of Yamaha's proprietary NanoXcel2 material. These uniquely-blended sheets of SMC fiberglass are thinner and lighter than conventional fiberglass sheeting yet retain their durable structure, giving the full-sized runabout its featherweight 820-pound displacement. Although sharing the same shape as the FX HO, the SVHO-powered sibling maximizes its power-to-weight ratio for optimal performance.
Powered by the now 6-year-old Super Vortex High Output 1,812cc four-cylinder, the centrifugally-supercharged 4-stroke produces an unofficial 260-horsepower through a 160mm two-piece high thrust jet pump, pushing the WaveRunner to a GPS-confirmed peak top speed of 69.1mph when we tested it on a hot June day in Georgia. Mind you, peak top speed isn't the same as sustained top speed, which hovered a hair north 68 miles-per-hour. Had our test unit this day been ran at an altitude closer to sea level with less fuel and a lighter rider, we're certain higher speeds could've been maintained over a longer distance.
[…]
While our test unit came to us in the racy Azure Blue with Lime Yellow livery, the 2020 FX Cruiser SVHO is also available in a really slick-looking Silver with Torch Red paint scheme too. As equipped, our Yamaha fetches an MSRP of $16,399, definitely not what you'd call entry level pricing. Then again, this is one of Yamaha's top-of-the-line full-sized runabouts, so you're definitely getting a superior machine here. And no, that's no exaggeration either. The FX Cruiser SVHO delivers – whether you're looking to throttle through a narrow channel of twisting turns or sit back and leisurely cruise as the scenery passes you by. Either way, you're gonna love this WaveRunner as much as – if not more than – we do.
Read the complete Review here.