The state's largest lake, Lake Marion is in the scenic South Carolina Lowcountry. Over 110,000 acres, it spans five counties near the towns of Santee, Charleston, and Moncks Corner. Marion features vast expanses of water with cypress trees lending it a swamp-like look.
Lake Marion is famous for its abundance of big fish. Some of the wildlife that you are likely to see are alligators, egrets, wild turkeys, and deer. Santee State Park is nearby with campgrounds, cabins, and piers stretching out over the lake. You will also find restaurants and other accommodations near this beautiful lake.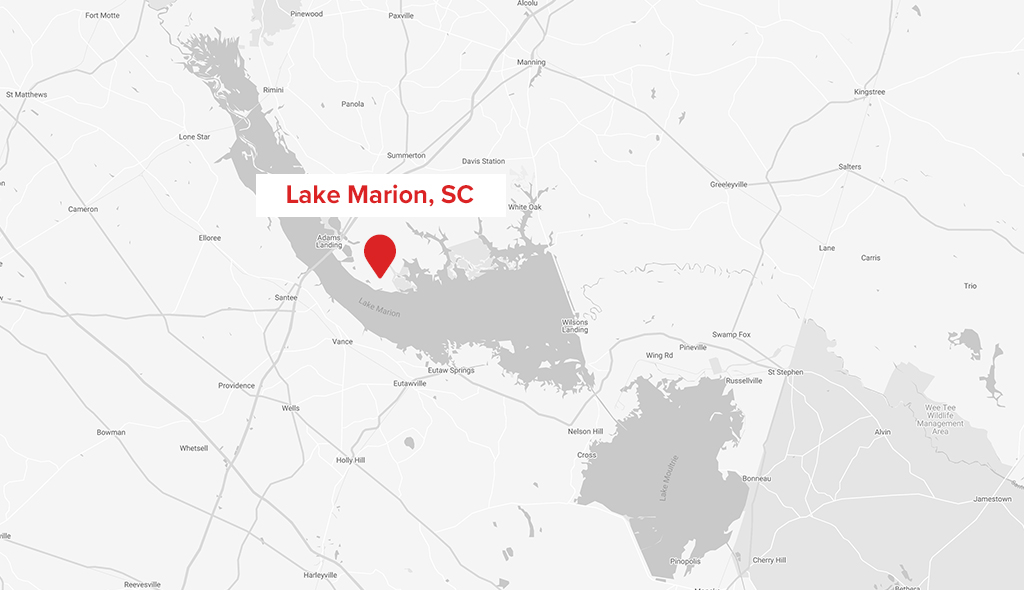 Both Lake Marion, and nearby Lake Moultrie, were created in the early 1940s as part of the Santee Cooper Project. The Santee Dam was built in 1942 and formed Lake Marion by damming the Santee River. The Cooper River was also dammed during the same project, which led to the creation of Lake Moultrie.
Top 5 Things to Do:
Visit the sinkhole, a unique geological feature formed by a limestone system extending from North Carolina to Florida.
View the cypress trees in the center of Lake Marion from our viewfinder on top of the fishing pier.
Stay in the park's one-of-a-kind roundette cabins, 10 of which are built directly over the water.
Hike over 10 miles of trails and spot some interesting wildlife such as foxes, squirrels, alligators, white-tail deer, osprey, pileated woodpeckers and more.
Take a step back in history and visit the tomb of Francis Marion aka "The Swamp Fox."